People who know me knows that I love football so much since my childhood and I'm a Besiktas supporter. Doing yoga or being a yoga teacher did not change anything about that. In our understanding of yoga, already, there is nothing to exclude from our lives. You don't need to be locked into any cliche moulds by reason of doing yoga. I mean you can integrate yoga into very normal flow of your life.
I used to love football so much when I was a child. I still enjoy it and I excitedly watch Besiktas matches. Maybe now, I watch the matches more easefully and enjoyably thanks to yoga. If we bring a right approach to football, it is very enjoyable sport branch to watch in which intelligence of the body can richly manifest itself. It is delightful to watch football stars like Messi, Iniesta, Sergen, Hagi, Alex, Ronaldinho. It is enjoyable to watch team play and the teams that are able to be good at cooperation as well.
I think it is not reasonable to treat of bad sides of football while there are these good aspects. Actually, this attitude makes no sense in any case.
There is already a common tendency towards noticing bad aspects of things and speaking constantly about these aspects. Bad news dominates newspapers and TVs.
If we want to see negative aspects of things, put football aside, there are many charlatans even in yoga world, is that right? Lots and lots…
So do we lose interest in yoga because of these charlatans? Of course not… We can find unpleasant details in all spheres of life.
Focusing constantly on the bad in things and letting displeasing things engulf us is a devastating manner. We can pay attention to the details which sweeten us up as well while we are aware of the happenings.So, may the details that make us feel good light our ways.
Today I want to tell you about somebody from football world who can light our ways. Cenk Tosun… He is an inspiring football player. Maybe you know that he joined England's Everton team from Besiktaş in the past weeks. His attitude during his farewell was as remarkable as his attitude during the period he uniformed Besiktaş. Here is why…
First I will briefly reintroduce Cenk Tosun to you. He began his football career in Germany, then joined Gaziantepsor and then came to Besiktaş. He is an attacking player. In the first years of his transfer there were world famous football players transferred to Besiktaş's attack. And he was overshadowed by these players. I mean he had difficulty in being in the first eleven.

SHARING HAPPINESS
Don't get me wrong, Cenk Tosun didn't get lost in the shadow of others, he grew up. He learnt from them. He improved himself. He didn't channel his energy into jealousy or burning himself out but he was able to share the achievements and happiness of his friends. That's why he has succeeded. He has worked wonders in the Champions League. And now he joined Everton.
When his transfer news got around, the first thing that attracted my attention was a photo of Cenk taken at Besiktaş's stadium.
In the photo Cenk, dressed in plain clothes, was saluting the supporters in front of the tribunes after a game. His coach Şenol Güneş and his team mates in uniforms was applauding him standing behind. Love and sadness were clearly seen in Şenol Güneş's eyes.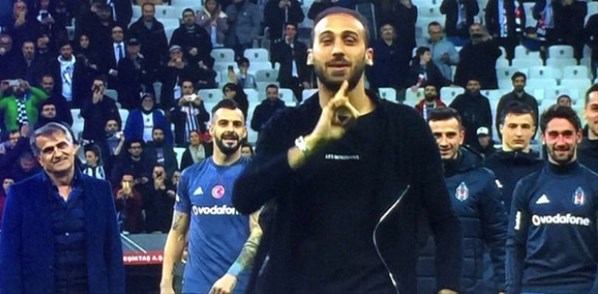 ŞENOL GÜNEŞ'S EYES
As it was seen at that scene, Cenk Tosun would probably go and that might be a farewell to honor him as it was his last game at Besiktaş's stadium, Vodafone Park.And then day by day the sharings of the president of Besiktas Fikret Orman, Cenk's teammates and club employees has started reaching us. Everybody has supported him.
ENCOURAGING MESSAGES TO CENK
Here are a few instances of those supports. There was a goal celebration Cenk and his teammate Babel performing right after each goal. They were jumping together and hitting their shoulders eachother. After Cenk's transfer became definite Babel shared a post telling "You can't do that celebration with nobody over there. Otherwise I fine you." An old teammate Demba ba posted "Remember some of those skills i taught you couple of years back. You gonna need them out there"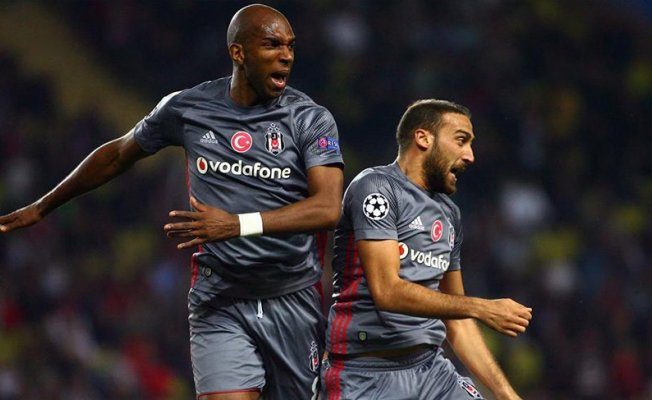 The president Fikret Orman wrote "Good luck with your new club and all the best! This is your home and you are always a part of our family Cenk."
There were countless people right behind Cenk Tosun.
When I have seen these posts I have felt the support behind Cenk. It is an amazing power for a person to know that he has lived such a supporting past.Sometimes we need to walk away to grow. This is a step of courage and if you take this step healthfully, you can clearly look ahead . Moreover, it is an art to say goodbye taking that power behind you and Cenk achieved it. And Besiktaş Club adopted a supporting manner cherishing its player's desire. Of course we do not know whether Cenk will be successful at Everton or not however I am sure that his potential will find maximum value of expression wherever he goes. For this reason I think he will succeed.
We live our lives in many types of relationships. No matter what teaching you experience, you are not living in a cave. Your relationships determine the quality of your life. The quality of your relationships leads you living a more open and more generous life regardless of your job or what you do. When you know to get that power coming from your past in a healthy way, it is always easer to look forward.
As the details of Cenk Tosun's leaving attracted my attention I recently mentioned about that to the attendees of our certification programme. Then the same day at evening, I saw the farewell letter penned by Cenk Tosun. His sentence on happiness which grows when shared is amazing.It is a warm letter honoring his entire past and each phrase is well thought.
His sentences remind of the sentences that we recommend to create a healthy environment during our systemic family constellation sessions. When I told this my dear friend Ela Erdin, she commented that these are what people who get in touch with their hearts can say and she was right. It is exactly true.
When we live the life from the heart we live like this inherently. We grow up when we learn to be happy with someone else's happiness, to share what makes us feel good instead of keeping it to ourselves and to inspire eachother.
It is a letter to be an example of seeing togetherness, honoring endeavours, getting inner power from our pasts.So I want to finish my article with Cenk Tosun's letter.
Goodbye for now!
–
I believe that two things grow when shared in life. The first one is success; the second one is happiness. No success is individual in this world.
Thousands of people who support, pray, show happiness, get excited contribute to each 'Success' title of our life story.
I have been wearing Beşiktaş uniform during the most important years of my career. I have also had difficult times but you have always supported me. You were the first ones who always gave me hand when I fell. I will reminisce about each day I spent in this uniform starting my sentence with the word 'pride", all through my life.
Our supporters, our administration, all co-workers of our club, my teammates, all football lovers who support us in their home which I have never known…
We did arrive at today hand in hand. We, all together, achieved phenomenal successes that would be written in gold letters in Beşiktaş's history.
Human life gains value not by dreams that came true but by keeping on dreaming. Now, I'm starting an entirely new story for new successes and new dreams. I would like to share this happiness with you just like we have always shared successes. Because when we grow more of them, both happiness and success, we can give more of inspiration to those who come after us. And now it is time to say goodbye.
Great Beşiktaş community and its great supporters… You will always have the finest part of my heart. I will remain proud of tribune stories of yours told with admiration all over the world. All the happiness that you bring me takes a big part of my heart.
One day, we will meet again in a happy scenario. Until that day do not stop supporting me.
And… Renounce your rights for me in this.
Cenk Tosun